In this article:
Why is blockchain relevant for insurance?
Smart Contracts in insurance
Blockchain insurance product concepts
The distributed autonomous insurance company
Glossary of Blockchain terminology
Why is blockchain relevant for insurance?
There are a lot of middle-men in insurance. Blockchain offers new ways of disintermediating them, which could drive significant cost-savings.
For many insurtech startups using blockchain (for example, ChainThat), the middle-men are lawyers, claims administrators, and loss adjustors. By hosting insurance contracts and documents on a distributed blockchain infrastructure, they promise to make the process of placing and administering insurance risk more operationally efficient.
For carriers and reinsurers with an interest in blockchain, brokers are extraneous middle-men, whose intermediating role in insurance transactions can be automated. There is no broker representation in the B3i consortium, while AIG's blockchain-based policy for Standard Chartered was arranged without involving the bank's broker.
For cryptocurrency and alternative finance enthusiasts, everyone currently in the insurance value chain – carriers and reinsurers included – is surplus to requirements. They imagine a future in which peer-to-peer risk sharing groups can form and operate on the blockchain without the involvement of insurers; and/or one in which anyone can invest in insurance as an asset class through an open, distributed alternative to Lloyds of London.
In addition to creating value for insurance investors, being able to create and manage insurance policies at much lower cost could also enable new types insurance which are not currently viable – such as microinsurance for small farmers in the developing world.
Smart contracts in insurance
Integral to all of these visions is the use of "smart contracts" – insurance contracts written in computer code, run on the blockchain, which can self-execute when conditions for a pay out are met. As the terms of a smart contract are programmed (for example, how much should be paid out in a given eventuality), no wording needs to be drafted, no claims need to be filed or processed, and no adjustments can be made. A distributed set of machines can take care of everything, simply by running the contract code.
That's the theory. But can it work in practice? What prerequisites are there for a smart contract based insurance policy?
There must be a trustworthy & reliable data feed which can be used to trigger pay outs; and a conclusion about whether to pay a claim, and how much to pay, must be able to be reached using a decision-tree. Otherwise, a trusted claims assessor would be needed.
To avoid fraud, there must be a way of automatically verifying that a policyholder has an insurable interest – or alternatively the design of the product must provide inherent mitigation of potential abuses by a policyholder without an insurable interest. Otherwise, an underwriter will be needed to validate that the policyholder's interest is legitimate.
It must solve a real-world problem & be comprehensible to ordinary insurance buyers. Otherwise, it simply won't sell in any volume.
Here are 7 examples of policies that meet these criteria.
Blockchain insurance product concepts
Flight delay & cancellation insurance. In 2016, the German startup Etherisc created a successful prototype of this product using smart contracts on the Ethereum platform. Data came from Flightstats.com, and the simple structure of the product – a pay out was due if the policyholder's flight was late – meant that claims could be automated. Etherisc mitigated the risk of users speculatively gambling on flights by limiting the number of policies that any one user could hold. Distributing the insurance only as part of a flight purchase at the point of sale would be an alternative mitigation.
Train delay & cancellation insurance. In the UK, Etherisc's product concept could be extended to trains using the National Rail Live Departure Boards API. Integrating with an e-ticketing app such as Trainline could automatically validate that the policyholder had a ticket for the train in question. Pay outs could happen immediately, giving the policyholder funds to take a cab, pay for a hotel room, or simply buy a commiseratory coffee. This would be a tangible improvement on the trip insurance currently offered to Trainline users as an add-on by Columbus Direct. Alternatively, the same solution could be adopted by the Delay Repay scheme to automate processing of compensation requests.
Crop insurance. Another Etherisc prototype involves the use of weather APIs to offer insurance to subsistence farmers for crop failure caused by weather events.
Wedding day rain insurance. Weather data feeds such as OpenWeatherMap could also be used to trigger automatic pay outs to newlyweds in the event of rainfall above a given threshold – a potential add-on to conventional Wedding Insurance policies. Here, as with crop insurance, there is no automated way of validating the policyholders' insurable interest – but this is academic as the extreme difficulty of tampering with weather station apparatus (or indeed altering the weather) would be out of proportion to the gains from manipulating the smart contract's input data.
Event weather disruption insurance. The Wedding Day Rain Insurance concept could be applied to other smaller-scale events where unexpected weather could be disruptive but where organizers are unlikely to buy conventional commercial policies – for example, village fetes. The same product might also appeal to independent stallholders who trade at fairs and markets. As with all the weather-related product ideas outlined here, there would need to be a business rule that a policy could only be purchased more than 30 days in advance.
Flooding insurance. A smart contract using the API for Flood Alerts, a real-time flood monitoring service based on UK Environmental Agency river gauge data, could trigger automatic insurance payments to policyholders with homes or business premises in flooded areas. This could help to overcome the delays in insurers' processing of claims and payments often experienced during periods of flooding.
Connected home insurance. As sensors and IoT are rolled out to domestic environments, it may become possible to use smart contracts for aspects of home insurance cover, such as burst pipes, or loss of freezer food from power cuts or appliance failure. As long as data from the sensor is reliable, smart contracts would be able to trigger automatic pay outs.
The distributed autonomous insurance company
The blockchain-based insurance products outlined above could be built on the Ethereum platform and sold today by an established carrier – with or without distribution by a broker. But could a blockchain-based business subsume the capital-providing role of an insurance carrier and reinsurer as well? Is it possible to build a distributed autonomous insurance company that could offer these products?
Technically there is nothing to stop someone running a token crowdsale or Initial Coin Offering (ICO) to raise the capital needed to fund risk and reinsurance pools from which claims could be paid. Until recently, ICOs have only been used to launch new cryptocurrencies; but the last month has seen both the web browser Brave and the messaging app Kik run successful ICOs. Again, Ethereum provides all the infrastructure that's needed. It would even be possible to securitize insurance risks and make them tradeable in a secondary market.
Furthermore, the blockchain offers transparency to policyholders and investors. The funds a blockchain insurer had available in its risk pool would be visible, in real-time, to anybody who cared to look.
More difficult is the question of insurance regulation. Operating on the blockchain is unlikely to exempt an insurance company from the need to obtain a carrier license or to comply with solvency rules (even if adherence to those rules could be coded into a smart contract).
But perhaps even more problematic is the susceptibility of a distributed autonomous insurance company to being bankrupted by bugs in its own code. In June 2016, one third of The DAO venture-capital fund was siphoned off by Ethereum users who had found a vulnerability. Similarly, during its pilot of Flight Delay Insurance, Etherisc was alerted by an unusual transaction to a flaw in its code which allowed users to buy insurance for flights that had happened in the past, thus guaranteeing a pay out. In both instances, the distributed nature of the code made it more difficult to act quickly to fix the bug.
Although it would be possible for a distributed autonomous insurance company to mitigate this risk by including "back doors" in its code, this would require its policyholders and investors to trust that the back doors would not be misused. As blockchain is meant to enable "trustless" commerce, this is rather ironic; and it puts a distributed autonomous insurance company at a competitive disadvantage to an established insurance company with a trusted brand.
A final challenge would be resolving disputes and complaints without costly human intervention. As Izabella Kaminska noted in a recent blog, over time tech companies like Airbnb and eBay have found themselves needing to recruit substantial customer care teams, as their users simply expect them to act as arbiters and adjudicators (as well as facilitators of transactions). There is no reason to believe expectations of a blockchain insurer would be any different.
Glossary of blockchain terminology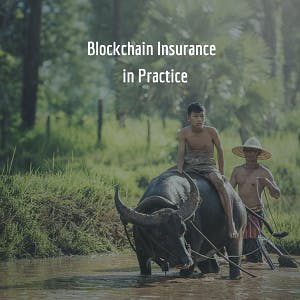 What is blockchain?
Blockchain is a distributed ledger technology. While it was invented to support Bitcoin, use cases for blockchain extend beyond cryptocurrencies.
What is a distributed ledger?
Like all ledgers, distributed ledgers are records of transactions or ownership of assets. However, unlike conventional ledgers, distributed ledgers are stored across a network (instead of being held in a single system and centrally controlled). The practical implication of this is that a distributed ledger is highly transparent and tamper-proof.
What is an ICO?
Also known as a token crowdsale, an Initial Coin Offering (ICO) is the blockchain equivalent of an Initial Public Offering (IPO). In an ICO, a blockchain-based business effectively sells equity to raise capital.
What is a Smart Contract?
A smart contract is a contract that is programmed in computer code, and can self-execute based on predetermined triggers.
What is Ethereum?
Ethereum is a blockchain-based open-source platform that can be used to create smart contracts, issue cryptocurrenices, run an ICO, or set up a distributed autonomous organization.
What is the Blockchain Insurance Industry Initiative?
Also known as B3i, the Blockchain Insurance Industry Initiative is a consortium of 15 carriers and reinsurers, who are collaborating to explore use-cases for blockchain in insurance. At the time of writing, the members are: Achmea, Aegon, Ageas, Allianz, Generali, Hannover Re, Liberty Mutual, Munich Re, RGA, SCOR, Sompo Japan Nipponkoa Insurance, Swiss Re, Tokio Marine Holdings, XL Catlin and Zurich Insurance Group.
What does "trustless" mean?
Blockchain is referred to as being trustless because it does not require the participants in a transaction to trust each other (or any other individual node in the network).
Thanks
My research for this article was greatly helped by Neil Murray's Series F Newsletter, Etherisc's white paper on Flight Delay Insurance, Greg Brown's blogs for Oxbow Partners, and particularly by conversations with Steve Carson, Bought By Many's blockchain expert.